Advance Ministries
ADVANCE MINISTRIES


Get the latest info on the Advance Ministry Facebook Group!
---
ADVANCE CONFERENCE 2022!
Advance is for all adults ages 19 to 30 (out of high school.)
---
Advance Ministries Summer Conference
July 24th - 31st at Camp Christian
For all adults ages 19 to 30 (at least 1 year out of high school.)
---
"Seeking Peace and Justice in a Divided World"
Come join us for a week of summer fun, friendship, and discovery as we tackle what peace and justice look like as young adults. How do you balance peace in your personal and interpersonal relationships? How do you contribute to peace in a global crisis? In what ways can you get involved in your local or global communities? How do you decipher the truth and engage with who may not agree with you? These are just some of the topics we will address throughout the week, focusing on global and local citizenship and peacemaking. 
As a reminder, finances should never be a barrier to attend and scholarships are available! So please reach out to an officer at officers@advanceministry.org. We look forward to seeing you!
Registration Day Information:
Date: Sunday, July 24th
Time: 3 p.m. - 5 p.m.
Location: Camp Christian Breezeway 
*Proof of COVID-19 vaccination is required for all attendees and must be shown at your time of registration (screenshots/copies are accepted). If you have a medical exception from the COVID vaccine, please contact the officer team directly at officers@advanceministry.org before July 24th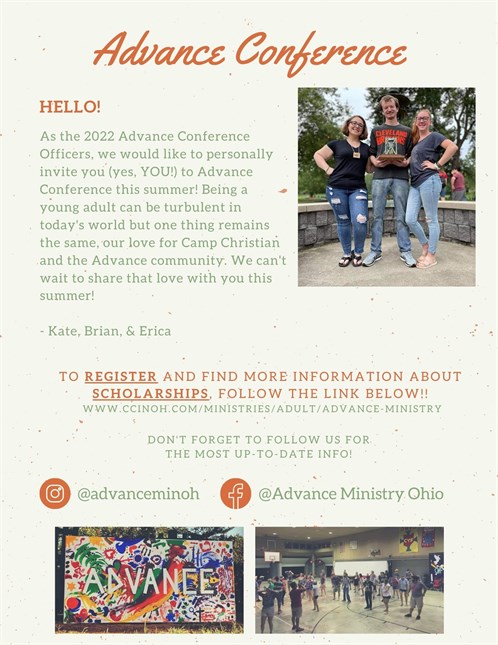 ---
NOTE: Full Covid-19 vaccination is required for in-person attendance. 
Attendees are required to bring proof of vaccination at check in.
---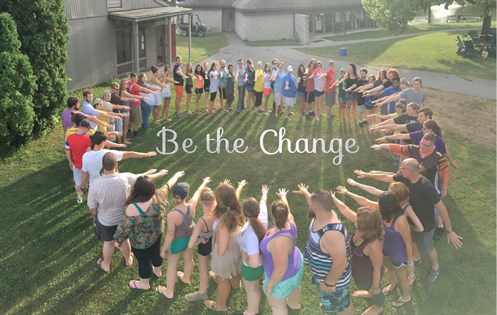 We have to become the change before we can be the change  
| | | |
| --- | --- | --- |
| | Connect with Advance! | |
---
Advance Conference is a Christian Church in Ohio ministry for young adults ranging from 18 to 30 years old.  Young adults, no matter their spiritual journey, are welcome to join Advance beginning the winter after they graduate high school. Advance gathers as a community at Camp Christian three times a year, two brief weekend retreats in winter and spring and then for a week-long conference in the summer. Bridging the gap between CYF and adult conferences, Advance helps young people in the Christian Church to navigate emerging adulthood and critically analyze their own beliefs in an open and accepting community. Advance introduces new concepts like keynote and small groups and keeps old familiar camp favorites like the hoedown and consecration to create a new and special experience for conferees.

This year, Advance Conference will be tackling the theme of Peace. Our winter retreat topic will be "Finding Peace in the Unknown" and will be held January 7-9, 2021. With the ongoing reality of COVID-19, we will be following the region's guidance as to whether or not we are able to gather in person or we will gather virtually. Regardless of the location, we look forward to coming together to explore new topics along with our wonderful faculty!

If you have any questions or needs related to Advance feel free to reach out to the officers (Brian, Erica, and Kate) at at officers@advanceministry.org