CYF Retreat

Christian Youth Fellowship (CYF)
Winter Retreat at Camp Christian
January 12-14, 2024
for youth in grades 9 - 12
---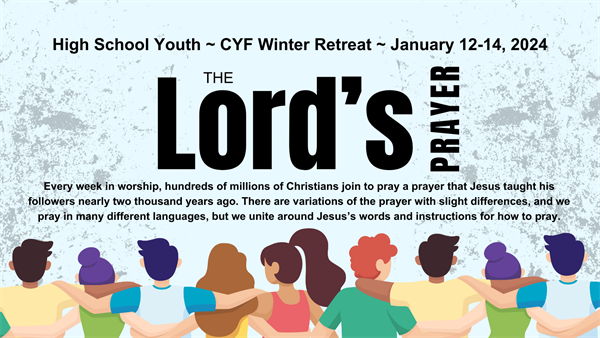 Come to camp for a fun filled weekend with your friends. Bible study, keynote speakers, games, singing and of course s'mores by the lodge fireplace.
Theme: The Lord's Prayer
Every week in worship, hundreds of millions of Christians join to pray a prayer that Jesus taught his followers nearly two thousand years ago. There are variations of the prayer with slight differences, and we pray in many different languages, but we unite around Jesus's words and instructions for how to pray.

Questions? Contact CYFOhio@gmail.com

Scholarships are available through the Youth Scholarship Fund
Click HERE for the Scholarship Form
---
Questions about CYF (Christian Youth Fellowship) for High School Youth? 
Contact CYFOhio@gmail.com
-