Regional Assembly
---
YOU are invited to the 2022 Regional Assembly - now a FREE EVENT!!*
Saturday, September 24th at Camp Christian
Registration, Music and Fellowship start at 10am with the program beginning at 11am
---
 Click HERE to download the Program Booklet!
---
*Please note, due to parental permissions and signature, a full form must be completed for anyone under the age of 18. Online registration for Adults can be done without completing the PDF form.
---
Basic Schedule for Regional Assembly, Saturday, September 24th
* = available to attend virtually through Facebook Live
10:00am – Registration opens, continental breakfast available, and exhibit tables open.
*11:00 – Opening Session - on Facebook Live - https://fb.me/e/3Dg1oJUuJ
12:00pm – Fellowship and Picnic Lunch
*1:00 – Business Session - on Facebook Live - https://fb.me/e/3nkzbbEW3
1:30 – A Family Reunion!

Activities, Tours, Green Chair Chats with the Regional Pastor & President, Free Time, Crafts, Music, Games, & more!

*3:00 – Closing Worship - on Facebook Live - https://fb.me/e/22tbxNqct 
A more detailed schedule is included in the Program Booklet.
---
Remember, overnight accommodations at Camp Christian are available both Friday and Saturday nights. Registration and payment for this can be made HERE.
---

A Family Reunion
"How good and pleasant it is when God's people live together in unity!" Psalm 133:1

We are so excited to reunite in person!

In response to some very helpful feedback the Regional Assembly Planning Committee has redesigned our Saturday, September 24 Regional Assembly, "A Family Reunion" at Camp Christian.  It is now going to be shorter and free!*  Through the generosity of a donor, all of the food costs will be covered.  We are hoping to still receive other donations to cover the program, utility, administrative, and staffing costs for Camp Christian, but the Regional Assembly Planning Committee is thrilled to offer this day of celebration at no cost to those who pre-register.  *Please note: For persons who register the day of the event, or show up on site without pre-registration, a $5.00 registration fee will be required.

This year's Regional Assembly will be filled with worship, fun and games, a short business session, food, and wonderful fellowship with friends and colleagues from around the Christian Church in Ohio and beyond.

Adults, youth, and children are invited to attend. The Assembly is designed for all ages, and there will also be child care for children ages 4 to 12.

We would love to see as many of you as possible for this long-anticipated gathering. We hope that each church in the Ohio Region will send at least 2 members to represent their congregation.

Please help us create a photo collage of our extended church family in the Ohio Region, by sending a group photo of your congregation.  Email high resolution group photos as jpeg or png attachments to ccio@ccinoh.org, by September 1st.


#CCIOFamilyReunion


---
 Click on the image for more information:
---
FOR EXHIBITORS AND VENDORS
Click HERE for your 
Registration Form
The exhibit fees are $40.00 and the tables are 8 x 2.5 feet. Payment can be made by check or with a credit card online. Exhibit fees cover registration for the event, lunch, as well as advertising space in the docket. Overnight accommodations (if needed) at Camp Christian would need paid separately. The fee applies if you use the table or not.  If you have your own set up and don't need a table, you still cannot exceed a 12 foot space. Registrations must be received no later than September 21st.
Questions? Contact ccio@ccinoh.org
---
***
BELOW IS ARCHIVAL INFORMATION AND RECORDING FROM 
THE 2020 VIRTUAL REGIONAL ASSEMBLY
***
---
 The theme for the Regional Assembly is "Rise Up" based on Isaiah 40:31 which reads:
"but those who wait for the Lord shall renew their strength, they shall mount up with wings like eagles, they shall run and not be weary, they shall walk and not faint."
Available throughout the day (and after) as your schedule permits
---
Regional Assembly Worship
The order of worship can be downloaded by clicking HERE.
---
Please take a moment to watch this video and hold in prayer Ministers in the
Christian Church in Ohio who have died since the last Regional Assembly


---
Follow along on the Facebook page, and/or on Twitter (@OhioRegion).  #CcioRiseUp
---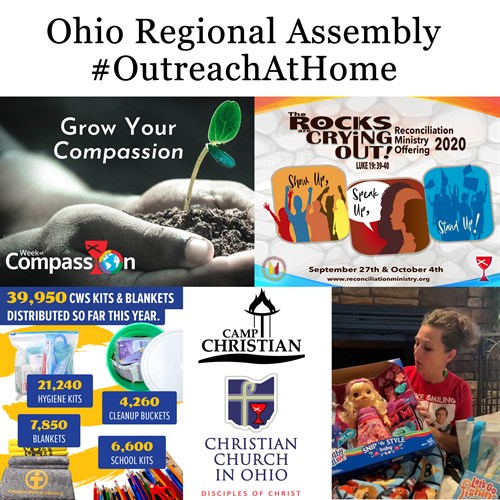 Because faith calls us to service through action, our Regional Assemblies typically include onsite opportunities for Mission and Outreach projects. Since our Assembly is Virtual we cannot do these projects and offerings in person, but there are still ways to faithfully do outreach at home!
Click HERE for some current 'Outreach At Home' opportunities we hope that you will prayerfully consider not only during the Virtual Regional Assembly but over the next few weeks and months.
Whether it is making kits for Church World Service, collecting food and Christmas gift items for the Free Store at Camp Christian, supporting and spreading the word about the Reconciliation Special Offering, or making monetary donations, we encourage you to use this time of Virtual Assembly to serve others through our shared love in Christ.
---
LIVE GATHERINGS!
Pension Fund of the Christian Church (PFCC)

September 26th at 11:00am
Pension Fund Area Director Raquel Collazo will be hosting a live Zoom Meeting to talk about how to access the Member Portal, the new financial concierge service called "Your Money Line" and other services offered by PFCC. There will also be a question and answer time.
Agenda:
-      Introduction
-      PFCC Products and New Services
-      Individual Meetings
-      Q&A
---
Connecting with the Unchurched. 
Reconnecting with the Dechurched.
September 26th at 1:00pm
Led by Pastor Terrell L McTyer
Minister of New Church Strategies

Do you have an authentic desire to share your faith with people who don't yet follow Jesus? Learn how to shift your focus on reaching unchurched and dechurched people with the real and relevant love of Jesus. Explore characteristics of churches that are effective in reaching new people for Christ. Reconnect with the Great Commission to help leaders revitalize their congregations by becoming more effective in reaching people with the Gospel of Jesus Christ for the growth of the Kingdom of God.
---