Renewal Initiative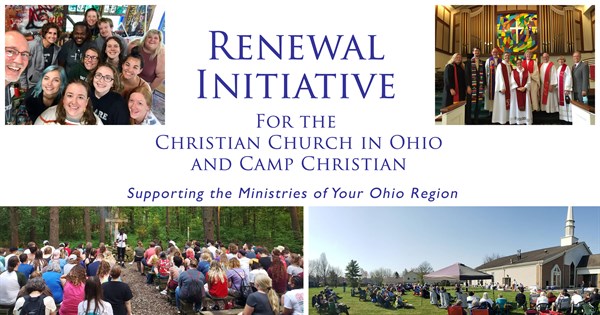 ---
Click HERE to
download the full
Renewal Initiative 
brochure. 

Click HERE for
the accompanying
Renewal Initiative letter.
 *You can set up a recurring gift through the donate now link above.
---
 Dear Friends, Thank you for your consideration of support for the Christian Church in Ohio and Camp Christian Renewal Initiative.Through the years, our ministries have thrived because of active participation and continued generosity from people like you.  We ask that you please review the brochure and letter (linked above) and prayerfully consider a donation. Gifts of any amount to this initiative will help us reach our goal to continue the work of Camp Christian and the church in Ohio not just now, but in each new season that God calls us towards.
---
 RENEWAL INITIATIVE GIVING 2021
(Please Note: It will take several weeks to finalize year end contributions, including those sent directly to Treasury Services in Indianapolis. Thank you for your patience!)
Designation Breakdown of Donations To Date:

$25,571.00 - Ohio Regional Operations

$21,734.00 - Camp Christian Operations

$33,562.54 - Where Needed Most 
---
Our 2021 financial goal is to raise $100,000 so that we can:
Empower our Vision Committee to reimagine innovative staffing possibilities with just wages for new ministry opportunities built on the findings of the Regional Transition Team


Free up our Regional Pastor & President to provide the visionary leadership needed to navigate new challenges of the 21st century church


Expand the 2022 Summer Camping Program and increase usage of our camp & conference center facilities by local congregations and outside groups


Use both traditional forms of networking as well as inventive techniques and technology to strengthen relationships amongst congregations and clergy and to better support local ministries and leaders
---
 2020 GOAL EXCEEDED!!
$120,029.44 - Total received for the Renewal Initiative in 2020
2020 DONOR LEVELS & CONTRIBUTIONS
---
2020 Year End the Designation Breakdown of the Renewal Initiative Donations is:
$20,523.75 - Designated to Ohio Regional Operating
$55,334.69 - Designated to Camp Christian Operating
$44,171.00 - Designated to Where Needed Most
---